Texan RV
Site Map & Rules
Nightly and Monthly Sites
We offer 159 level sites with full hookups, including water, sewer, WiFi, Cable, and Electric.  Our park is conveniently located just south of Mansfield, Texas in the Dallas/Fort Worth area.  We're just a short drive to virtually anything in the metroplex, yet just far enough out of the center of town to enjoy the peace and quiet of the countryside.
SITE RATES
DAILY
WEEKLY
MONTHLY + ELECTRIC
RV SITES
$55
30 or 50 Amp
+ $4/per person after 2
$335
30 or 50 Amp
+ $29/per person after 2
Ranging from
$680 - $780
30 or 50 Amp
+ $99/per person after 2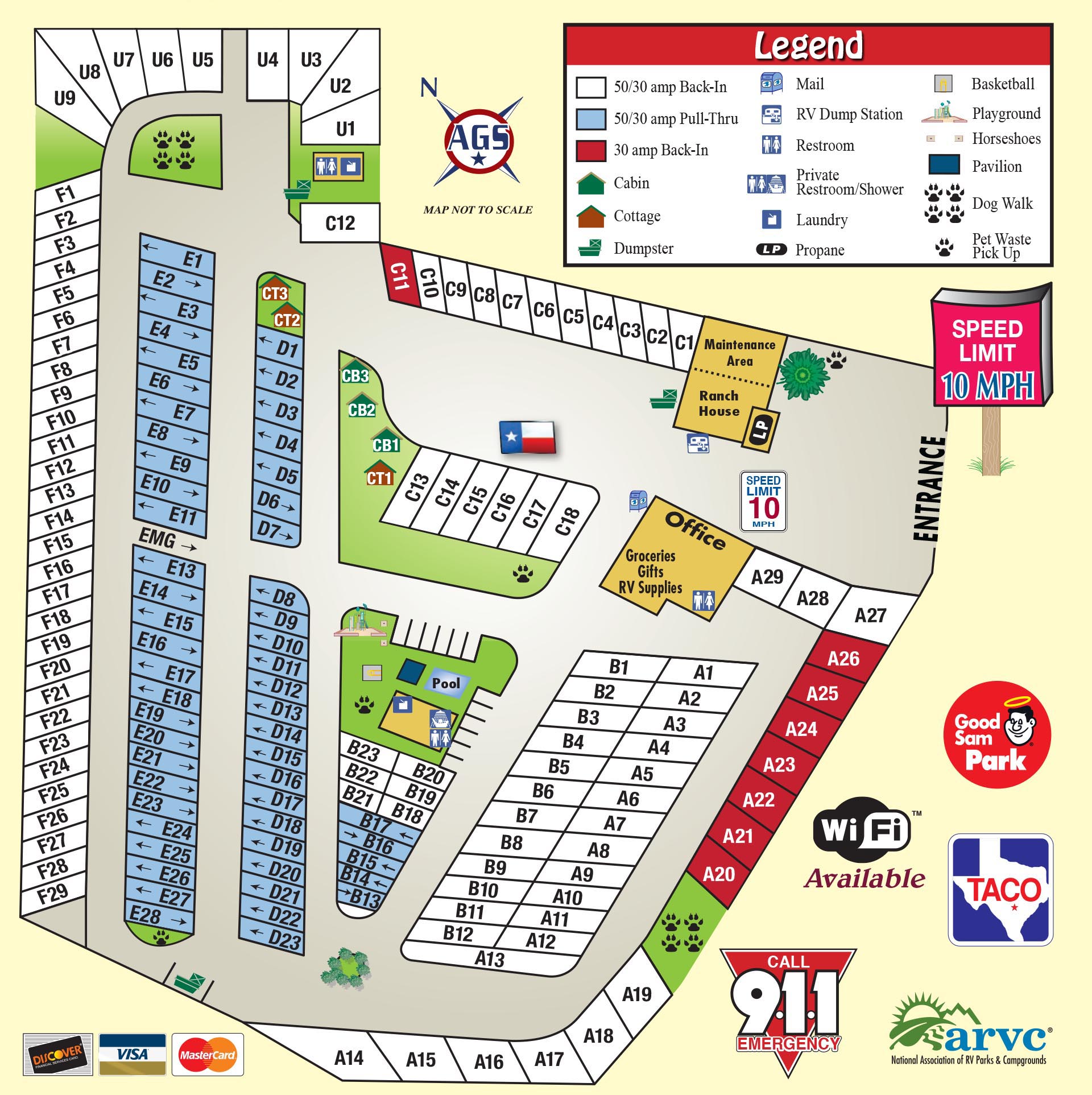 Park Rules
Pets:

 

Friendly pets are always welcome in the park. NO pit bull-related breeds or any aggressive dogs permitted. All pets must be up to date on vaccinations. Pets must be kept on a leash at all times when outside. Continuous barking dogs will not be tolerated.
A 3% credit card processing fee will be applied to each credit or debit card transaction. 

 

Resort fees: $6 for the entire nightly reservation.  $6 per week on a weekly reservation.  $12 per month on a monthly reservation.
RVs:

 

All RVs must be clean, look nice and be in good repair. No FEMA trailers. No window air conditioning units. No tarped roofs, boarded windows or RVs in poor condition. If in doubt, email a photo for review.
Guests and Visitors:

  

We reserve the right to refuse service to anyone. Illegal activity, violence, vandalism, vulgar, foul or threatening language will not be tolerated and are grounds for immediate eviction.
RATE SCHEDULE AND POLICIES
Site Check in time 2:00 PM Check-out time 11:00 AM
A deposit is taken on each reservation and all rent payments are due at or before check-in.

Monthly rates plus electricity*
RV site rates are for up to 2 people per site. There will be an additional charge of $4.00 per night, $29.00 per week, or $99.00 per month for each additional person 6 years of age or older.
Daily and weekly rates include electric, water, sewer, WIFI, and CABLE. Monthly rates include water, sewer, WIFI, and CABLE. The electric meter will be read on the rent due date. A $100.00 refundable 5-day notice electric deposit will be collected on all monthly arrivals.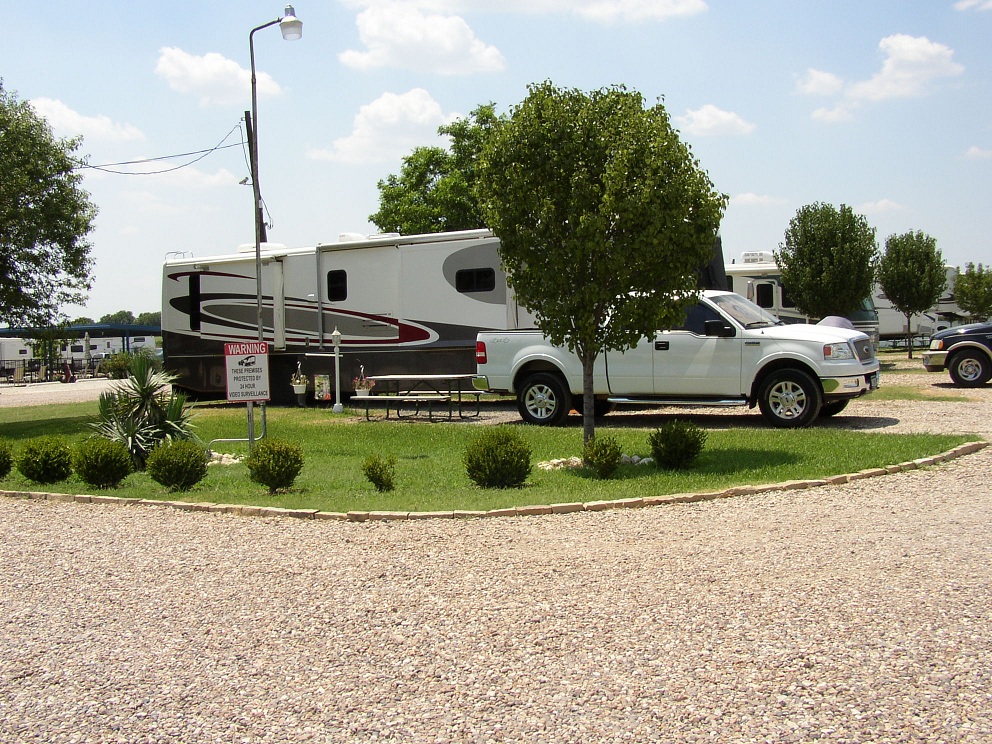 Premium RV Sites
Texan RV Ranch offers select "Premium" sites for our long-term guests.  These sites are spacious, offer a few more trees, and a little more green space than our regular sites.
Monthly Premium Rate
$725-$750
Standard RV Sites
The Texan also offers monthly level sites for long-term residents that include all of the amenities of a Premium site for less!
Monthly Standard Rate
$650-$675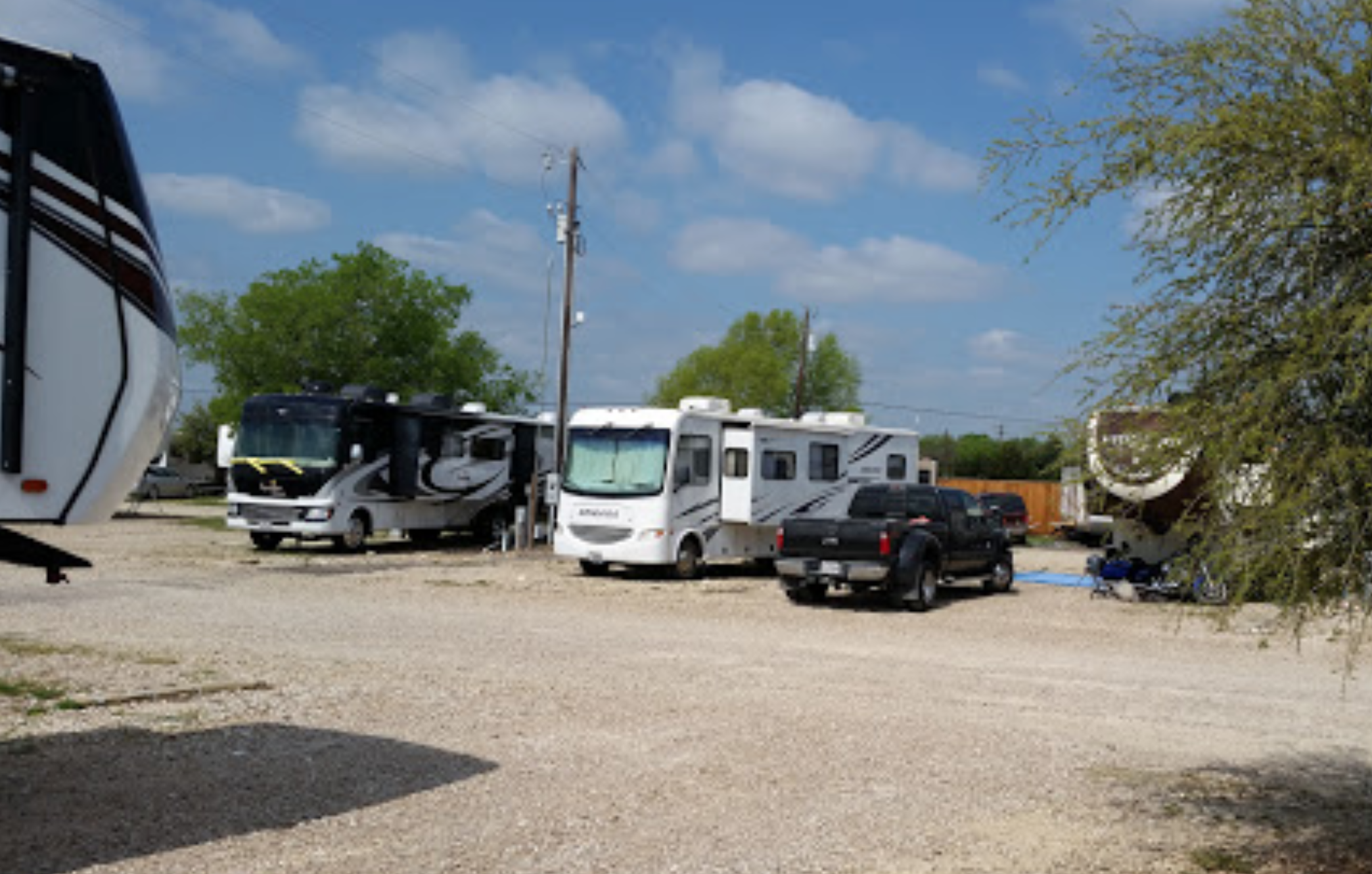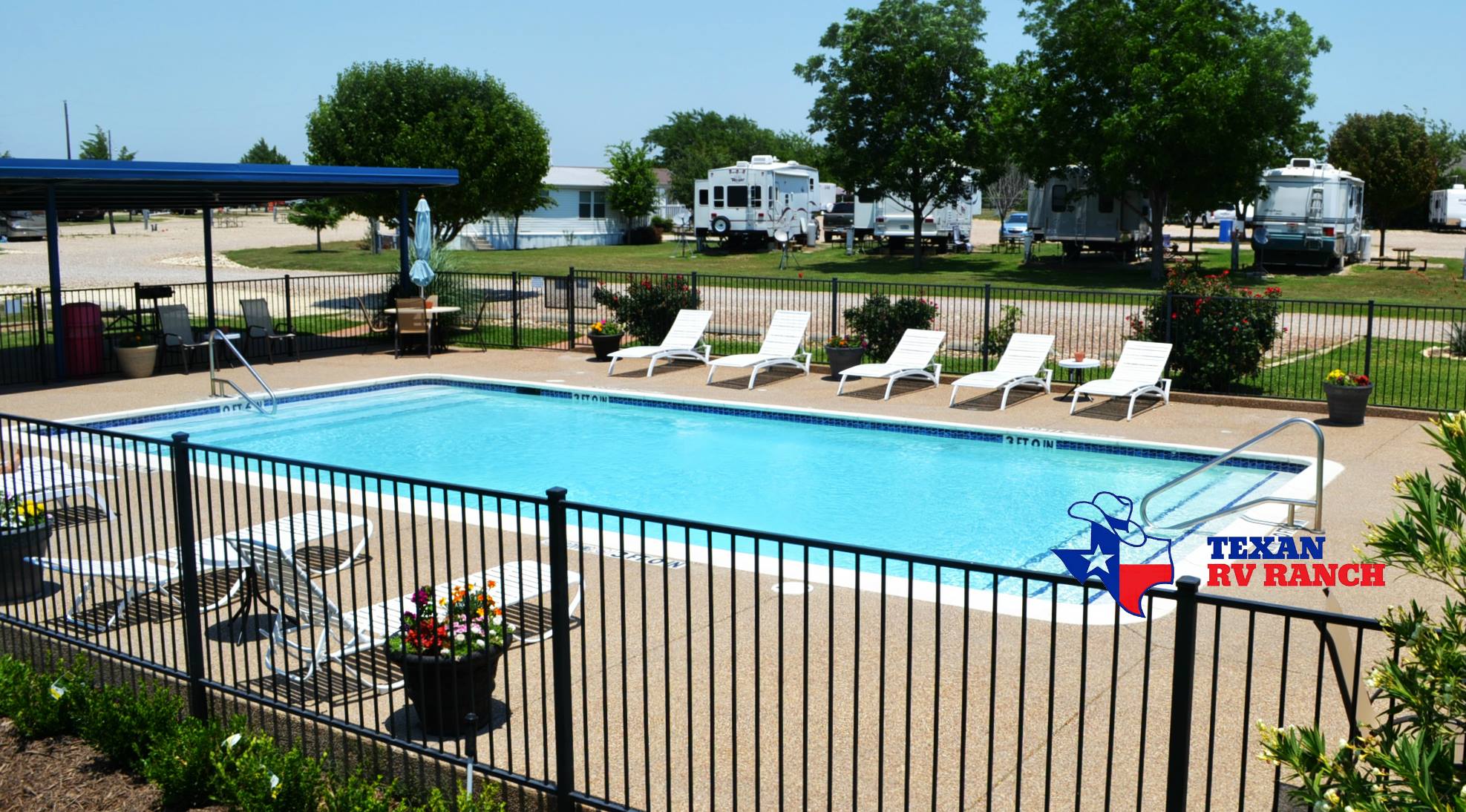 The Pool & Pavilion
Our in-ground pool is open to our nightly and long-term guests Memorial Day to Labor day and beyond depending on the weather.  Our covered pavilion adjacent to the pool includes picnic tables, porch swing, and a gas grill.  The pavilion is located at the north end of the pool overlooking the playground and horseshoe pits.
The swimming pool is conveniently located between our office/convenience store and bathhouse and is the prefect gathering place for relaxing with friends and family.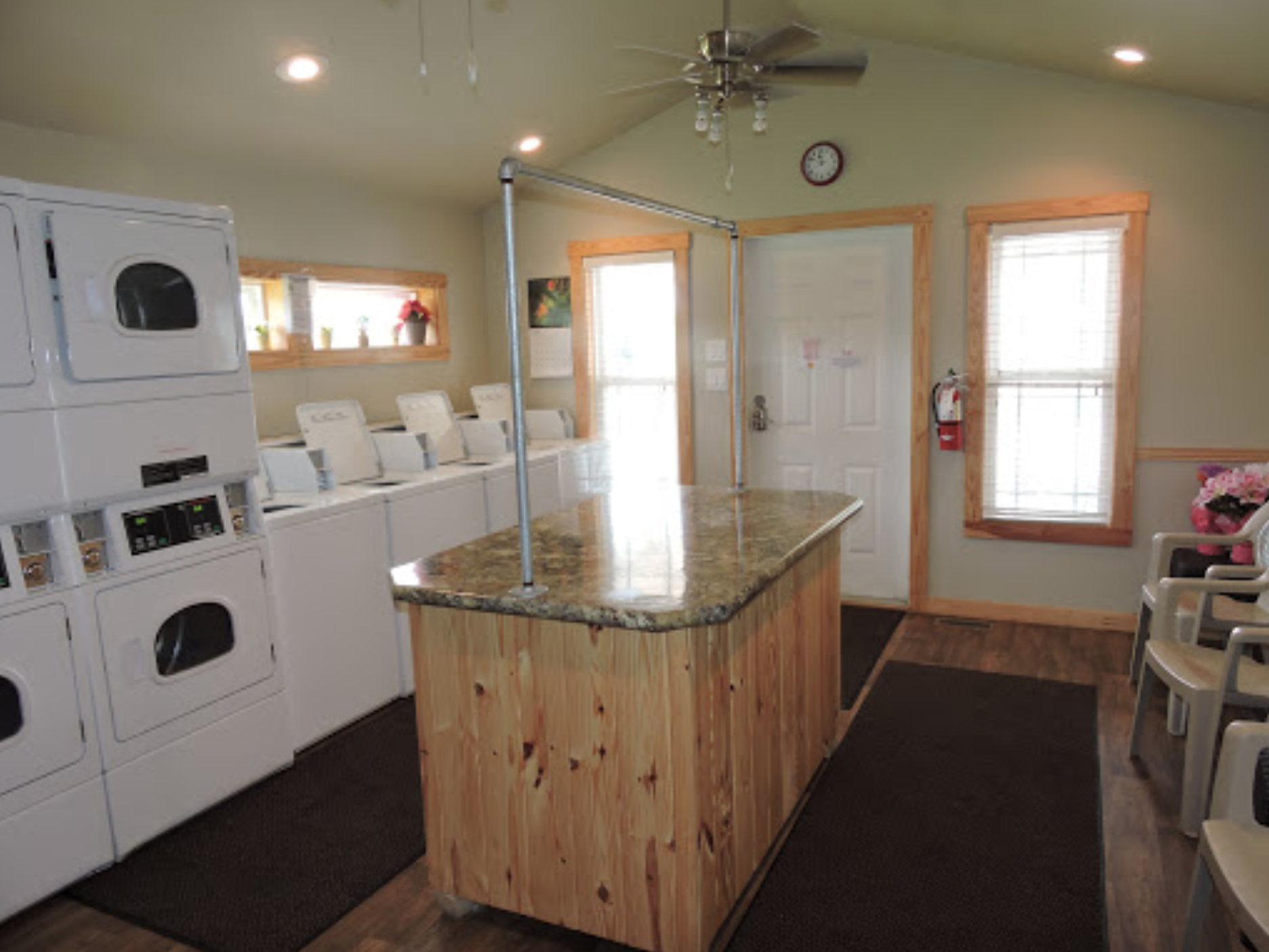 Laundry & Bathhouses
We offer two on-site laundry and bathhouse facilities for our customers.  Laundry rooms include coin operated commercial washers and dryers and the bathhouses are private and include keyless code operated entries.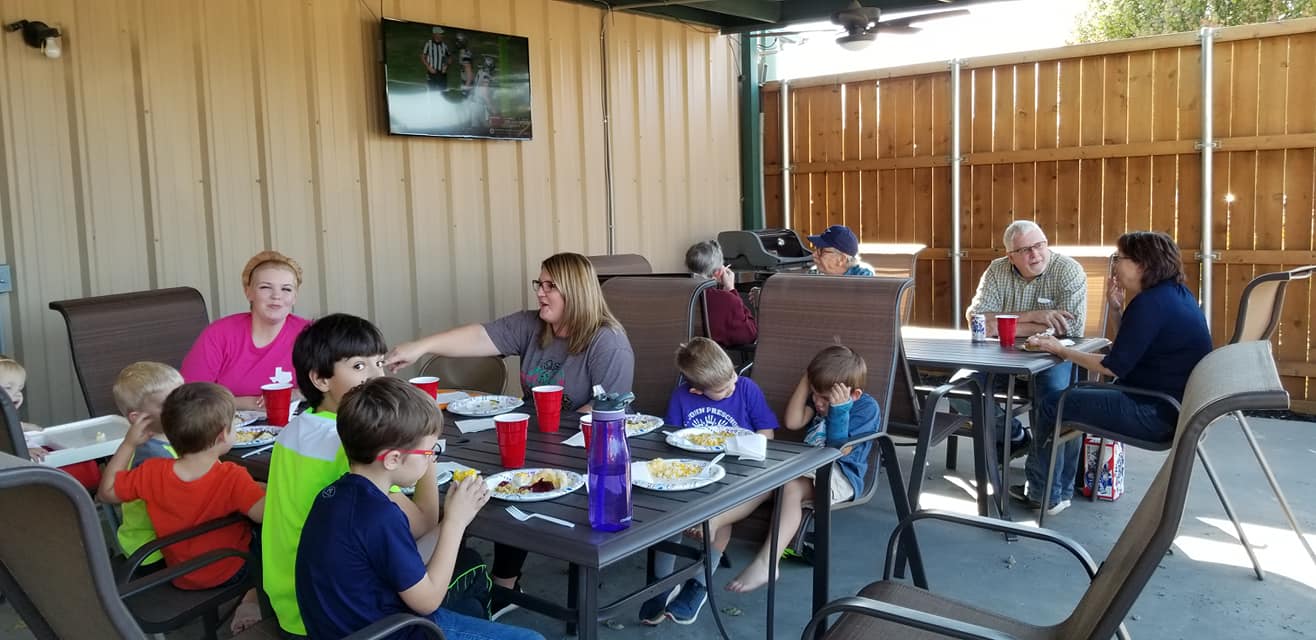 The Ranch House
The perfect place for campground get togethers.  Our Ranch House includes a kitchen, flat panel TVs (inside and out), pool table, and tables & chairs.  We offer monthly weekend breakfasts, and you can reserve the Ranch House for private events as well.  We also offer special campground-wide events that you can sign up for during your stay at Texan RV Ranch.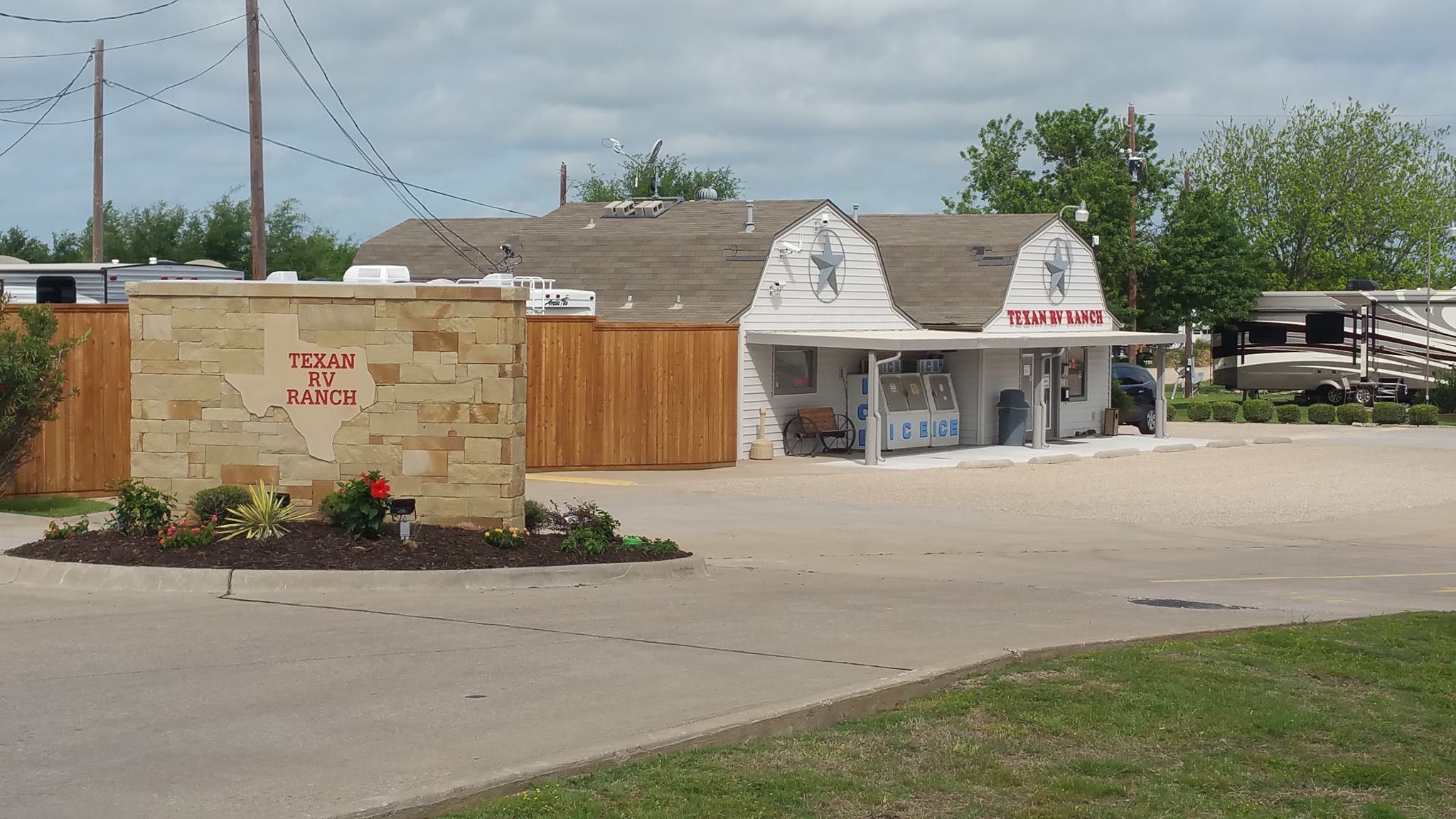 Office & Convenience Store
At the entrance of our park, you'll find out fully-stocked convenience store.  While you stop to check in, you find several convenience items, beer, wine, ice, lottery tickets, tobacco products, RV supplies, and so much more!  Our office and store is open 7 days a week for your convenience.
Have a Question?
We would love to hear from you…